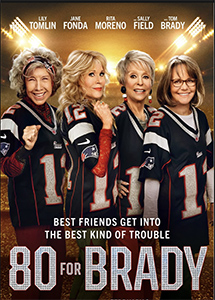 Saturday, June 10   1 p.m.
(movie changed) 
80 for Brady (2023) stars Lily Tomlin, Jane Fonda, Rita Moreno, Sally Field and Tom Brady.
In this sports comedy, four long-time friends and diehard New England Patriots fans take a whirlwind trip to the 2017 Super Bowl to see their idol Tom Brady battle it out against the Atlanta Falcons. Lots of chaos happens as they navigate the wilds of the biggest sporting event in the country. A 72-year friendship inspired this movie.
Feel free to bring your own snacks.
Registration Fee: Members $3 /Non-Members $4
REGISTRATION DEADLINE: JUNE 9
Please send any movie suggestions to: events@centuryhouseassociation.com  
Note: July and August movies will be on the 2nd Wednesdays (we'll be closed Saturdays)
Last Reviewed on 2023-05-25