UPCOMING FEATURES
CELEBRATIONS OF CENTURY HOUSE'S 60TH ANNIVERSARY CONTINUE
Congratulations to all members of the 60th Anniversary Committee for their terrific work on the July 23rd 60th Anniversary Celebration.
Many thanks to Frances Blake, Mandeep Cheema, Ruby Grewal, Wenke Hogg, Bev Martin, Rob McCullough, Robyn McGuinness, Kevin McKay, Marg Mckee, Elizabeth Philip, Shelly Schnee, Audrey Soroka, Patricia Smith, Marjorie Staal, Susan Tamkin, Liz Twaites, Carole Wylie and the Memory Corner Group.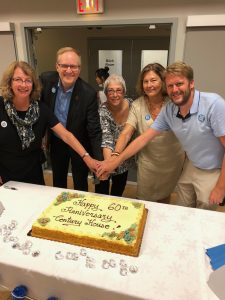 photo credit New Westminster Record
DIAMOND CELEBRATION DINNER
Join us for a Diamond Dazzling evening event including dinner, entertainment and commemorative item. Watch The Clarion for upcoming ticket information.
Wednesday, October 24
watch for details in The Clarion