UPCOMING FEATURES
CELEBRATIONS OF CENTURY HOUSE'S 60TH ANNIVERSARY CONTINUE
It's all things diamond this year. Thanks to Susan Tamkin, Mariette Leppert and the Artists Drop-in group for our decorations … and there's more to come!
Thanks to our City Horticulture Services group for transforming the front entrance garden into our Diamond Celebration Garden during June and July.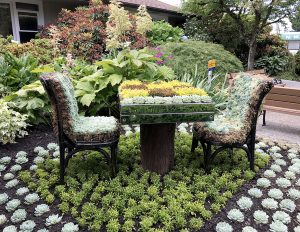 HAPPY 60th ANNIVERSARY CENTURY HOUSE 
This is our special day! Please join us for cake, refreshments, entertainment and displays. Everyone is welcome to this free event. Please sign up at the Front Desk.
DIAMOND CELEBRATION DINNER
Join us for a Diamond Dazzling evening event including dinner, entertainment and commemorative item. Watch The Clarion for upcoming ticket information.
Wednesday, October 24
watch for details in The Clarion