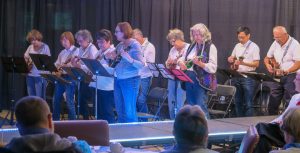 What We Do: Play the ukulele and sing
Important to Know: This is a strum and sing group. We take requests from our song book "The Daily Ukulele" and a short list of songs is emailed as a way to prepare beforehand. Various levels of ability attend and are welcome. We don't have a lesson, but we all learn new chords, progressions and songs
When Do We Meet?: Thursday mornings 9:30 a.m. until noon.
What Is the Cost?: None
Who Can Join?: Century House members
More information:
9:30 am to 10:20 am: requests as we move around the room; we alternate the Yellow and Blue daily versions of Uncle Jim's Ukulele Songbooks. Most of those who attend buy their own books; extra books are usually available or shared
10:20 am: we break for tea/coffee and snacks in the Connections Cafe
10:50 am to 12 noon: we work on pieces to improve our playability. 
But wait, there's more:
CHUMS (Century House Musicians and Singers) is a group of ukulele musicians who perform at various care homes and for some activities at Century House. We attend the Thursday morning group and arrange extra practices to prepare for performances.
You can also take classes:

Ukulele classes (Beginners, Intermediate, Advanced) Based in music theory, with paid instructor, city staff person; Saturdays, and often Thursday evening workshops. There is a cost, and people register through the front office;
StrumFun – Friday mornings, run by a volunteer; basic chords and singing; free, but people need to register.
To learn more, ask Activity Chair Shirley Miller (contact information via the office).
Here's a 2016 Ukelele group:
Last Reviewed on 2018-11-22