During a conversation about how to celebrate the 50th Anniversary of Century House, former member Betty Gilroy suggested making a time capsule. A Committee was formed with Betty, Joyce Babington, and Mary Ross to develop plans for the project. Notices were placed in the Clarion asking the membership to contribute ideas and memorabilia. A suitable wooden box was constructed by City carpenter, Paul Grant. Paul's talents and expertise are clearly shown in the beautiful design of the cover of the box. Wording of the attached plaque was researched by Betty and Joyce.
The capsule contains old Clarions, photos, badges, stories, 50th Anniversary CD, photos and awards from the Sluggers Baseball Team, and other memorabilia of the time. There is also a letter to the Association Executive of 2058 giving the history and suggesting that two youth who were actively involved with the planning of the Youth Centre, and who will be seniors themselves by this time,  be invited to attend the opening of the Time Capsule.The Time Capsule was dedicated at a ceremony during the 50th Anniversary Celebrations in 2008 and is installed as a feature of the Century House Library shelving. The plan is to open the Capsule in 2058 as a part of Century House's 100th Anniversary celebrations.
Unfortunately, Betty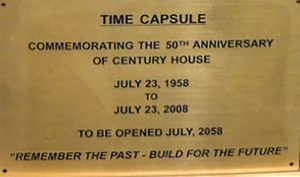 Gilroy did not live to see the completion of this project as she passed away in October 2007. We are indebted to Betty for her many contributions to the Century House family.
Last Reviewed on 2018-11-01