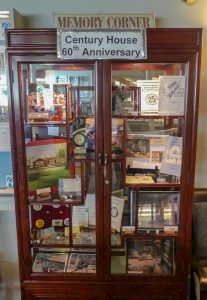 Welcome to the Century House Memory Corner Group page.
What We Do: We fill the display cabinets with interesting items from the past.
Important to Know: We need donations on loan from Century House members to fill the cabinets. Our Christmas 2018 display starts November 30. Watch the Clarion or see the office for our next theme.
When Do We Meet?: every two months
What Is the Cost?: None
Who Can Join?: Century House members
Last Reviewed on 2019-11-25