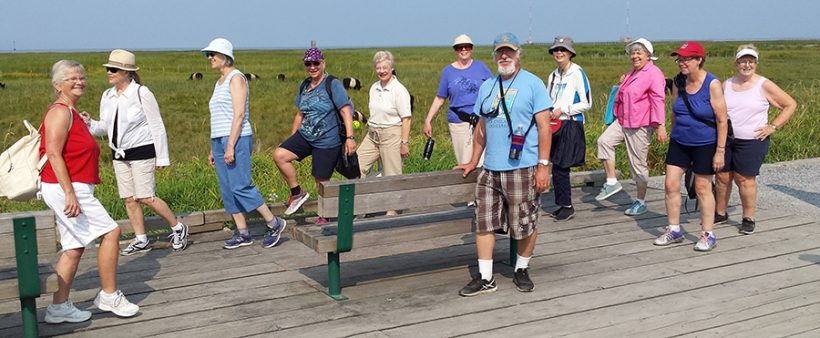 What We Do: The Walking Club has been a part of Century House's activities for 20+ years. It started out with about 20 members under Norah's guidance and has increased in membership to about 50 members today. It is a drop-in activity where anywhere from 10 to 25 walkers participate.
Our walks take us all over the Lower Mainland using transit – from Pitt River Airport to Steveston to Ambleside Park in all types of weather. Our walks take anywhere from an hour for local walks to several hours for distant ones each
We try to schedule walks to take advantage of the seasons – Queen Elizabeth Park and Deer Lake Park in spring to enjoy the beautiful flowers;  Ambleside Park and Jericho Beach in summer to appreciate the ocean's bounty; Glenbrook Ravine and Trout Lake Park in autumn to see the changing colours of nature; Coal Harbour and Dundarave Parks in winter to appreciate the Christmas decorations.
Not only do we get our exercise but we enjoy each others' company. If you like exploring, exercise, and companionship the Walking Club is the place for you.
Important to Know: Please wear good walking shoes for safety and a smile. Remember to dress for the weather.
A list of upcoming walks is available on the bulletin board near the front door, and in the Clarion newsletter.
The fall schedule is on page 8 of the September Clarion.
When Do We Meet?: This weekly walking group usually meets at 6th Street and 6th Avenue at 9 a.m. on Friday mornings, rain or shine.
What Is the Cost?: 25 cents per walk and transit fare.
Who Can Join?: Century House members
Last Reviewed on 2021-09-14