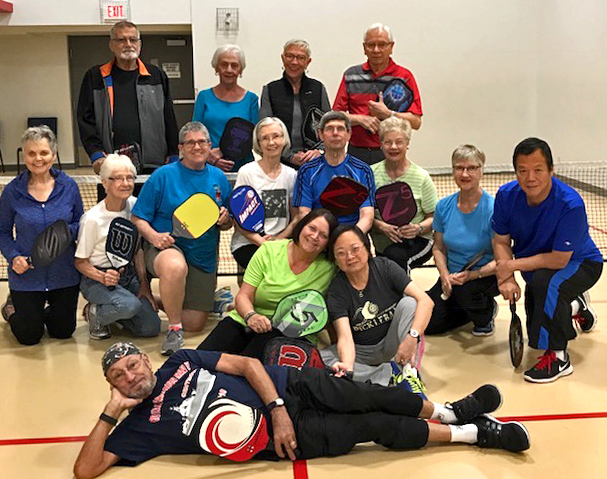 What We Do: Pickleball is a court sport.It is played with paddles similar to ping pong bats and plastic balls with holes in them.The court is smaller than a tennis court and the ball is hit over a net similar to tennis.It can be played as singles or doubles.
Our main purpose is to have fun, learn something new, stay active and meet new people.
Pickleball was created in 1965 on Bainbridge Island outside of Seattle, Washington. People played in their backyards on hard surfaces and driveways. Since the mid-1970's Pickleball has grown from a family activity game to a sport with formalized rules and is played both indoors and out.
Required Equipment: Good gym shoes. Paddles and balls are supplied.
When Do We Meet?:Mondays and Thursdays 9 a.m. – 2:30 p.m.
Please note there will be no indoor pickleball in August 2021 because the multipurpose room is unavailable.
What Is the Cost?: $12 annually
Who Can Join?: Century House members
Status: With 39 members, court time can be a squeeze. We welcome new players.
Learn more: There are many websites. Just google Pickleball plus videos, equipment, rules etc. Or search Facebook for "Pickleball New Westminster"
Other points of interest: Our outdoor courts are at Westburnco Park on 10th Ave. between Massey St. and Chilliwack St.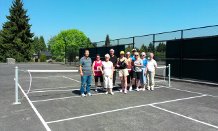 We will play our usual days and times Mondays and Thursdays, 10 a.m.–2 p.m.
If you have your own equipment and some one to play with, the courts are always open.
How did Pickleball get its name? Click Here to Watch a video to find out!
Websites of Interest
Canadian Pickleball Federation
BC Pickleball
Last Reviewed on 2021-07-26