Regular items
This week's café menu.
Shelly's next online coffee break is Tuesday July 14 at 11 or 1. Details and registration.
Advance Care Planning workshop
A free online workshop on Advance Care Planning is offered July 16 and 29 by two local chapters of CARP, the national seniors' advocacy organization. Speakers from Fraser Health wlll provide insights and resources to help you better understand how to share and document your wishes for future health and personal care.
See the poster and registration links on Facebook or register directly:
Thursday July 16 from 1-3 p.m.
OR
Wednesday July 29 from 6-8 p.m.
Falls Prevention workshop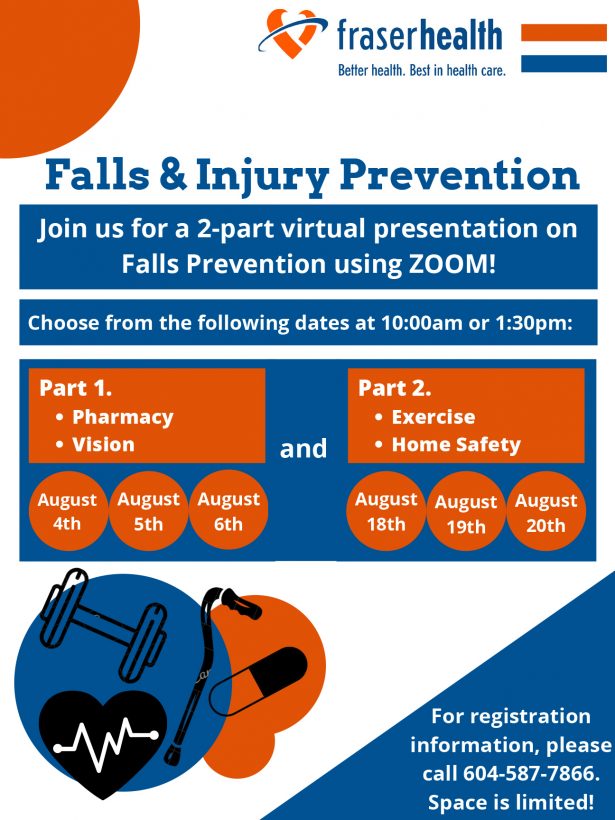 (click poster to enlarge it)
Join the Fraser Health injury prevention team for their two-part virtual presentation in August covering the four main pillars of falls prevention.
The first presentation will take about vision and medications. The second presentation will talk about home safety and exercise.
Space is limited, so call 604-587-7866, to reserve your spot ASAP. The injury prevention team looks forward to hearing from you.