Photo contest winner
We asked members to submit photos in two categories: "Art Show" and "Taken While Walking Around." Thanks to all who entered.
Judging was based on artistic merit, execution, and overall interest, plus a bit of "I like that one." The photos are all as submitted except for some resizing.
Our overall winner and gift certificate winner is an untitled piece by M. Hall.
Some of the top submissions are shown here.
Friday: Dr. Davidicus Wong
Dr. Davidicus Wong is back with another inspiring webinar on Friday June 5, 11 a.m.– 12:30
In "Surviving and Thriving in the Age of COVID-19," Dr. Wong will provide helpful tips for managing stress and teach key practices for emotional wellbeing.
Please register in advance, here. Note: that page says 10:30; that's to make sure you get connected in time. Dr. Wong will start at 11.

Virtual birthday party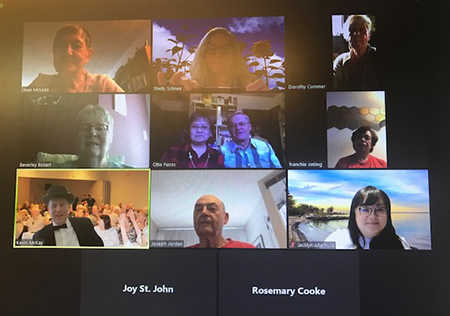 The Show Must Go On! This month's birthday party was online via Zoom.