Century House is closed for the long weekend and will reopen for takeout on Tuesday May 19.
Free masks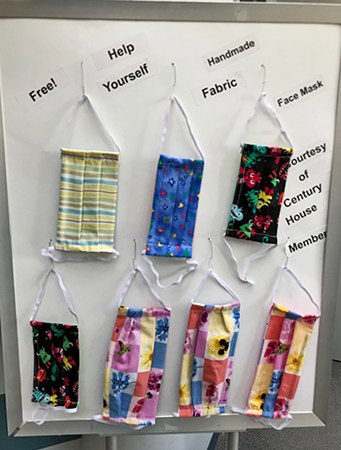 While supplies last, you can pick up a free personal-use fabric mask at Century House during office hours. We thank the volunteer members who are making these masks.
Online coffee breaks
Shelly's online coffee breaks continue every Tuesday. We've put the unchanging details in a page here. The details for each week will appear in a post like this one.
Tuesday May 19, 2020
Morning 11:00 a.m. Register in advance
Afternoon 2:00 p.m. Register in advance
Please register early, as no registrations can be approved after 10:00 a.m. on the day of the program.
BC COVID-19 Survey
BC COVID-19 SPEAK: Your story, our future is a population health survey to elicit citizen experience, knowledge and actions during the COVID-19 pandemic. It's open till May 31. In its first couple of days, more than 150,000 people have already done the survey. Why not join them? [ link to survey ]
City information update
The resource documents on the city website have been updated. The Food Resources Calendar includes Victoria Day closures and the Survival Resources Guide includes the recently opened Emergency Response Centre at Massey Complex.