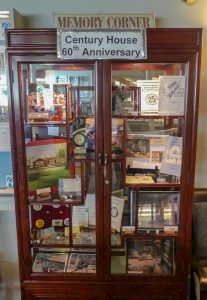 Welcome to the Century House Memory Corner Group page.
What We Do: We fill the display cabinets with interesting items from the past.
Important to Know: We need donations on loan from Century House members to fill the cabinets.  A display of "Horses and Unicorns" is currently on display. A new display will begin on Friday September 28. It is called "international" and will feature any item of interest which has an international connotation. If you have any relevant item you would be happy to loan us, please bring it to the Memory Corner on September 28. Please see the office for more information.
When Do We Meet?: every two months
What Is the Cost?: None
Who Can Join?: Century House members